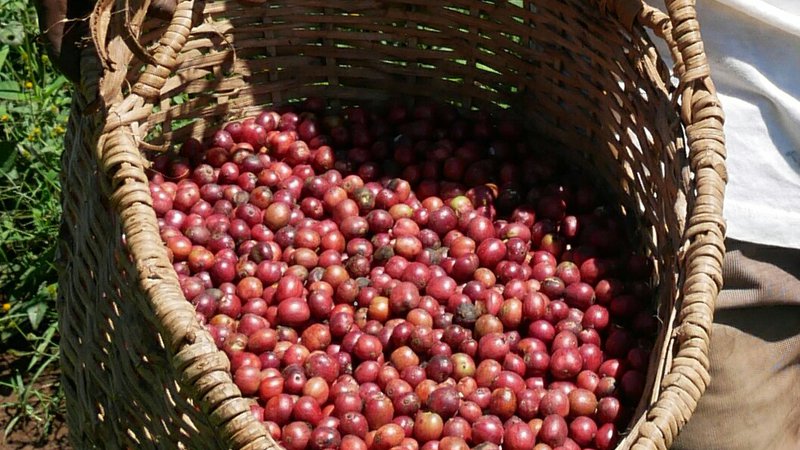 Have you ever seen a basket of red coffee cherry? It looks really good and when you're willing to deal with quality, you can't help but being amazed and excited by the potential result in the cup.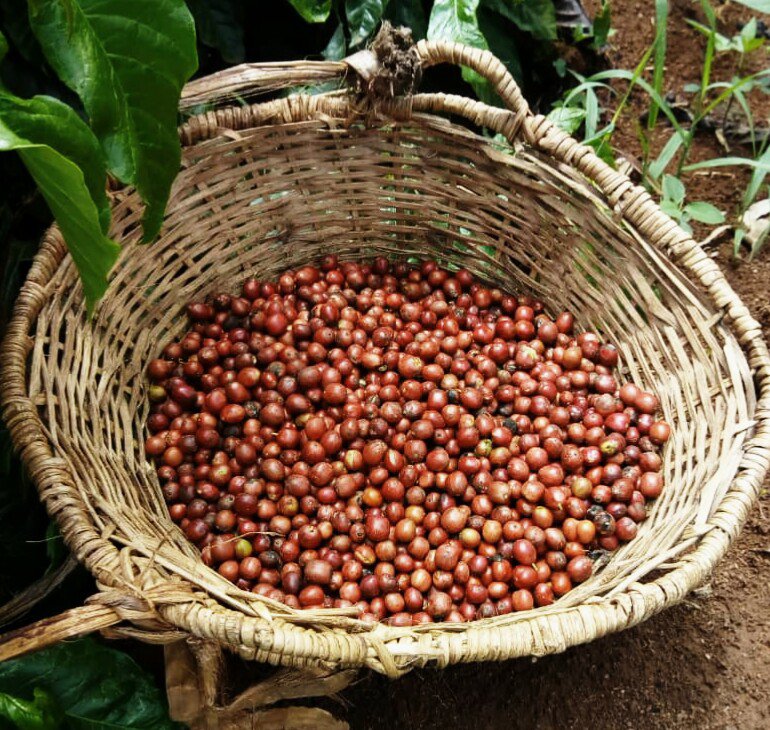 Robusta red cherries Sembabule, Uganda
And actually I don't know how many times I've heard or read that coffee cherries shall be picked when they are fully ripe, from light to shinny deep red.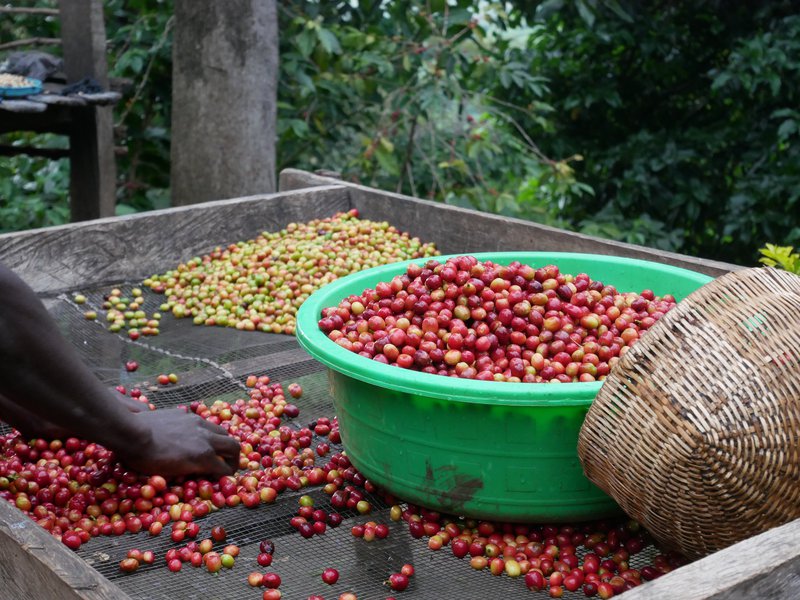 Picking red cherries Arabica coffee farm, Sipi, Uganda

Unripe (green, yellow, orange) and overripe (dark red to dark with lighter weight) shall be left apart.

Why?
Because they will be treated as reject during the post harvest process.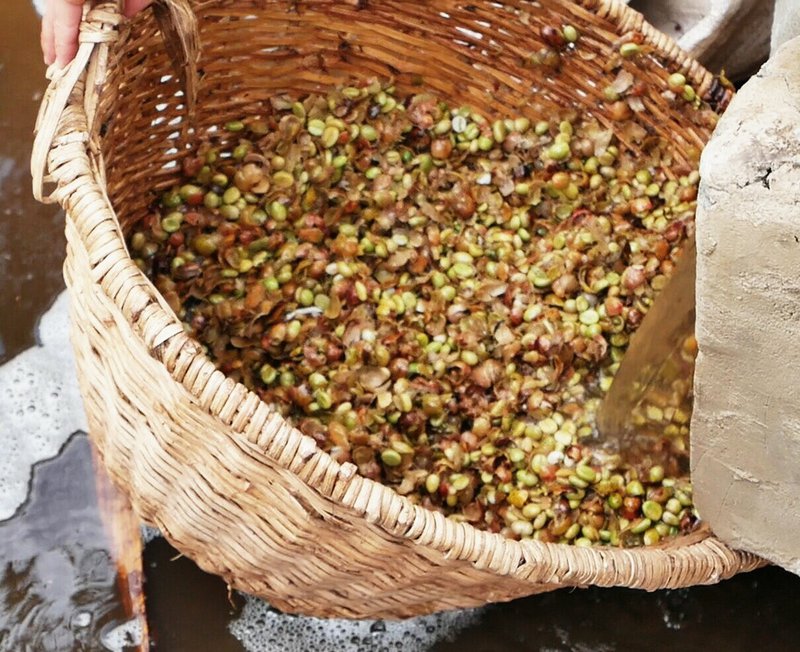 Floater beans rejects
So they actually represent a loss for the farmers. Every cherry cropped too early is a potential fully ripe cherry to which you haven't left enough time.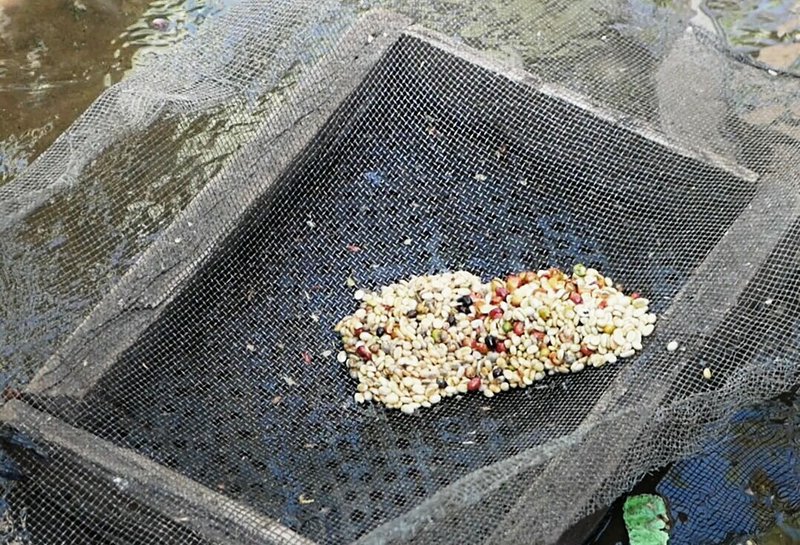 Floater beans rejects
A farmer could easily double his productivity if only ripe cherries were picked during the process.
Moreover, unripe and overripe cherries will affect the roasting and the taste in the cup.
So clearly, they should be left apart.
A so simple equation, something that look so obvious for the whole specialty coffee industry. And yet... it is not that easy to get to here.
Sometimes it even look like a fight of David against Goliath.
I realized that myself after spending some time in different coffee farms, observing how many cherries were floating and separated before being pulped.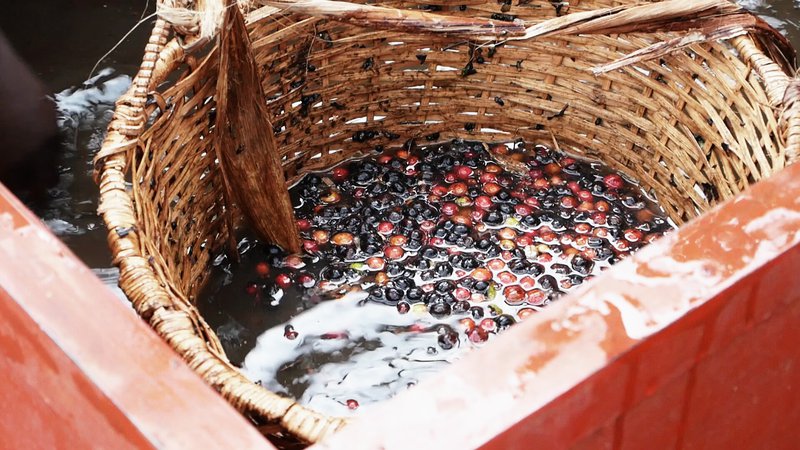 Cherry floaters
Afterwards again during the pulping, how many were rejected by the machine. And for those which escape, you might still have to take them apart manually during the drying process and then again at the milling through density and color separator.

All in all, it can easily represent a third of the total volume, sometimes even more.
Producers that give a special attention to quality try to train their staff to pick only the ripe cherry. But this is a long and difficult process which requires a lot of patience.
Stephan Katongole is one of them. He produces specialty washed robusta in the region of Sembabule, Masaka district in Uganda. He needs pickers during the harvest season and his farm is actually known as "the place where you're only paid for picking red cherries."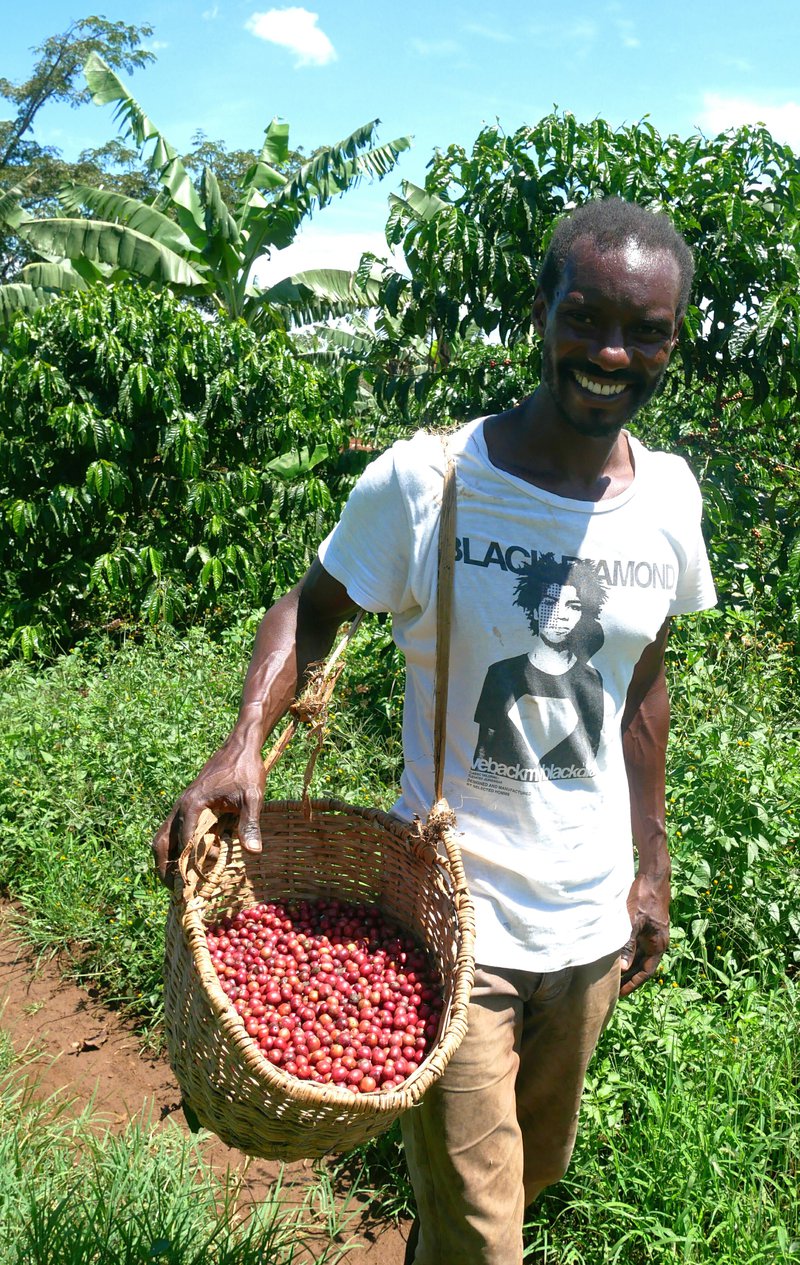 Stephan Katongole, coffeeyouknow, Sembabule, Uganda

It's not an easy task as, Stephan explains us, most of the pickers have no idea of what is done with coffee cherries afterwards... Yes it sounds crazy, but that's a reality. Cherry pickers don't know that you make coffee out of this fruit. They might don't even drink coffee. So the first step is to explain them the process and why the selection is crucial for the quality. That's what Stephan does. He also make them chew the coffee cherries at different levels of ripeness to make them feel the taste. They feel that the red cherry is much sweeter and more tasty than the unripe or the overripe.
Here they start to understand.
But then, picking only ripe cherry requires more time than taking them all. You have to pass several times to the same tree during the harvest. Because the fruits are never ripe at the same moment.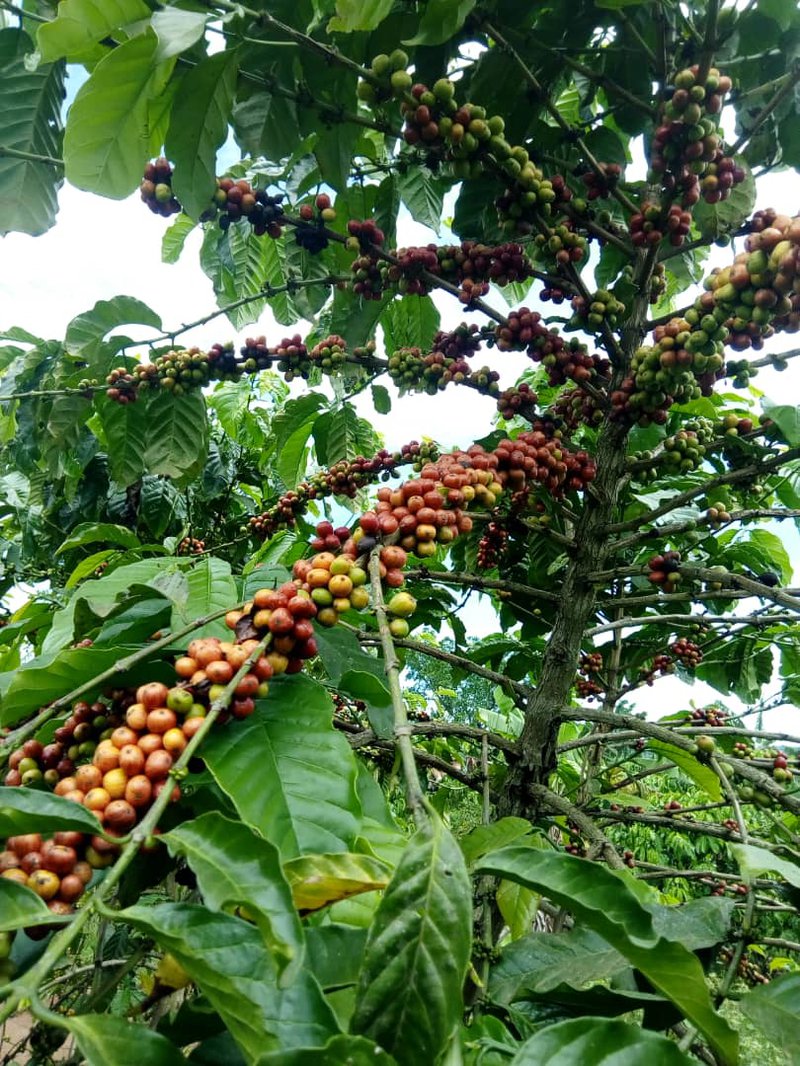 Robusta Coffee Tree, Sembabule, Uganda
Even within a single branch, you will not be able to take them all. So the work is more meticulous, slower and also longer.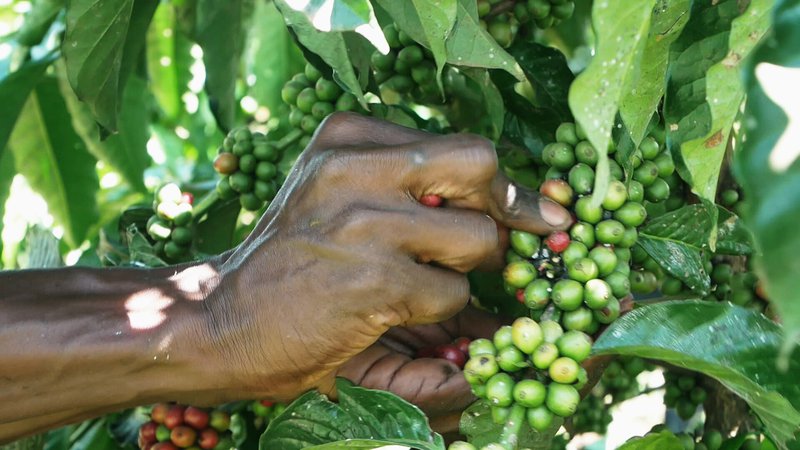 Picking red cherries, Sembabule, Uganda

Stephan compensates this additional time and care by paying a better price per basket, actually the double of what is normally paid.
As he also explains, this selective picking gives people a work during the whole harvest period and not just at the beginning. So in the long run, it's better for everyone.
But he's in competition with big companies as the whole region lives out of coffee - sundried robusta.
Big companies that are buying cherries to farmers or are contracting them to work on their farm.
Big companies that are focused on volume rather than quality and thus don't care so much about the level of ripeness.
Why should they care after all?
As they probably have the best machines to process and grade the beans, they will be able to sell this coffee to any market.

Therefore small farmers wishing to have a special focus on quality are only buying the ripe cherries and refusing the others... But they are in direct competition with this big companies. Even if they are willing to pay a better price, pickers might and often do prefer to work faster and get immediate cash for unselected baskets.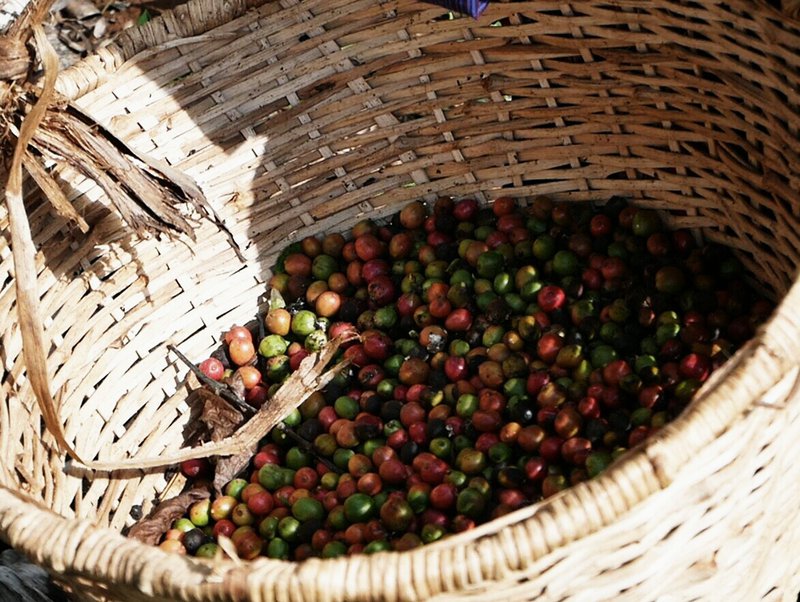 Unselected coffee cherries
And that's how something that seems as simple as a colour difference becomes a Chinese puzzle-like.
If the biggest stakeholders have no interest in changing their practices, to educate their workers to better picking methods, they can only blame themselves for their lack of productivity and quality.
But the biggest damages for sure will be borne by the small producers.